Lucid Puppy 528 Released as Finlandia
August 17, 2011 - Lucid Puppy Coordinator Playdayz announced: "[Lucid Puppy] 5.2.8 is the fastest, friendliest, and most fun Lucid yet. It is the fastest because it is the first Lucid [Puppy] to use the C and ffmpeg libraries optimized for i686 computers .. It is the friendliest because special attention has been devoted to the user experience.. 5.2.8 uses the Roxterm console which has copy and paste and other features like a text editor.. uses an entirely new Control Panel that makes it easier to customize and configure Lucid to one's liking.. 5.2.8 includes more wallpapers and themes than any previous Lucid."
"In addition to the faster libraries, there are new and updated firmware and drivers for many devices, courtesy of forum member tempestuous. Further, the hardware detection and configuration routines have been extensively tested and enhanced by forum member rerwin.. Finally, the overall look and feel, the friendly and fun stuff, has been influenced by forum member pemasu [in whose] honor, [Lucid Puppy] 5.2.8 is nicknamed Finlandia."
Download Lucid Puppy 5.2.8 from here, 129 MB, md5sum = f04ec9ef3540be8e50d0a24c512e1309
NOTE: Update 02 is available - click here to download, then click on the file to install it. Optional multimedia update is here.
Torrent (thanks to mchlbk)
Comments (2) Added by raffy August 18, 2011 (8:57PM)
ISpup is a NOP is a Quirky 120
July 24, 2011 - ISpup is here, an industrial-strength, optimized and enhanced Quirky-120 NOP.
Forum member TLM has released ISpup and hosted the ISO at his site revolutionvoice.com. ISpup is based on the nice and WIN-looking NOP, which in turn is based on Quirky 120. There are many software updates in ISpup, including Firefox 5 and a number of tricks to make your computing more productive and fun.
To know more about ISpup or to get add-on software, visit the forum announcement or go to ISpup's home page.
Download from ISpup home or from megaupload.com: 132 MB, md5sum = cee03b976ab2ee0e4f125d461f7c31f0
Comments (0) Added by raffy July 24, 2011 (7:30PM)
ShepherdPup - Third Anniversary Edition
UPDATE: 07/024/11 Now based on Wary 5.1.2
I am pleased to publicly announce the release of our latest version of ShepherdPup Linux (Forum).
This third anniversary edition of ShepherdPup Linux is a self contained freely distributable derivative of Puppy Linux featuring the all new pBiblx2 - Field Wise Bible System (Forum) complete with the many Christian resource materials that we are currently using and developing in our own daily ministries. It is an excellent starting point for you to add your own personal additions as well. (Think "Bible Server Seed")
From its very conception, ShepherdPup has been developed to stand out from other bible software by following this simple motto "It's meant to be given". This new edition takes the concept of bible sharing to even greater depths. You are welcome to use and modify it as your outreach efforts in the Lord see fit.
More details and a functional on line "live demo" of the pBiblx2 CGI is available at:
ShepherdPupLinux.US

Comments (0) Added by 1pritts2 July 24, 2011 (12:15PM)
Old Kernel of Version 4.31 for New Lucid Puppy 5.25
May 11, 2011 - James C has created Lucid 525 Retro-2.6.30.5 - it is the new Lucid Puppy 5.25 that has the kernel of Puppy Linux 4.31. It is good for users of version 4.31 who like to have the new tricks of Lucid Puppy 525. See the forum announcement, with James C's description, "This should provide all the hardware compatibility (and extra drivers) and stability from Puppy 4.31 combined with all of the new up-to-date applications from Lucid 525".
Download the ISO:lupu-525-2.6.30.5.iso, 130 MB, md5sum = f9dbe43414b605c921ada5263d27a316.
Extra drivers are available in the Murga Forum, thanks to Tempestuous.
NOTE: Barry Kauler builds Wary with long-term-supported kernel and wide collection of device drivers. SFS4 files are used starting with Puppy Linux 4.3.
Comments (2) Added by raffy May 11, 2011 (6:00PM)
New puplet Puppy Cielo Wary 5 with OpenOffice, Skype, VLC and Opera
based on: Puppy Linux Wary 5.0 - 384mb
MD5 Checksum: bd983c487b75317dca6f4c2a1c2347b6
Software
:
OpenOffice
3.1 (dictionary: EN, IT, ES, PO, DE, FR) - office suite
Skype
2.1 - internet telephony
Opera
11.00 - browser web
Vlc
1.1.5 - media player with audio and video codecs
TrueCrypt
7.0 (volume mounted in "mnt", with Desktop link) - create a virtual encrypted disk
Download part 1
Download part 2
Download part 3
Download part 4
Older versions at
Puppy Cielo's home
.
Comments (3) Added by rollobix January 30, 2011 (3:38AM)
Puplite for Good Old Times
January 1, 2011 -
Sc0ttman's Puplite
brings back good old Puppy 4.20 with lots of tweaks found in the new Puppies of 2010.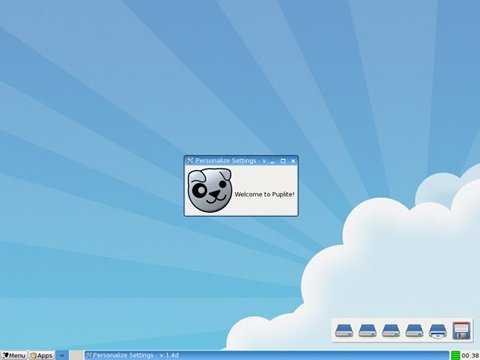 From the
forum announcement
, Puplite has:
first-boot configuration options;
sfs loading on the fly (point it to downloaded sfs files);
goodies from new Puppies of 2010;
grub4dos for booting; and
Puppy Arcade 10 as base ISO.
Download the ISO from
eMinima Mirror
.
Extra drivers are available in the
Murga Forum
, thanks to Tempestuous.
NOTE: Use with Puplite only sfs files built with Squash file version 3. (Sfs4 files are used starting with Puppy Linux 4.3.)
Comments (0) Added by raffy January 1, 2011 (12:10AM)
Macpup 511
November 16, 2010 - Macpup 511 is released, see the
Forum announcement
.
UPDATE June 11, 2011 - NEW
Macpup 525 is available
.
MP511 includes the Enlightenment E17 window manager. The EFL libraries version 1.0.0 Beta and E17 version 52995 were compiled and installed from source.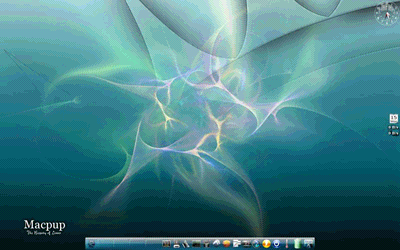 Download the
ISO (click here)
188 MB, Md5sum = 7cb0c86e9068517714bee8da0584e3e9
Visit the
Forum Discussion
or read the
users' reports
.
Comments (0) Added by raffy November 16, 2010 (10:32PM)
UbuntuStudio PuppyLinux Version
July 30, 2010 - Ubuntu Studio Puppy Edition - the creative power of Ubuntu Studio with the speed of Puppy Linux!
Download from here (user=puppy password=linux).
For feedback, visit the forum.
Comments (0) Added by raffy July 30, 2010 (8:20PM)
July 19, 2010 - Quirky 1.20 NOP is here! See the Forum. Download quirkyNOP from here (user=puppy password=linux), 100 MB, md5sum = 0a5c83fa3331cc32ed895d1e047f740d




Gray describes the new NOP:

This is a 100Mb remaster of Quirky 1.2 in the tradition of previous NOPs.

Nearly Office Pups are so called because office apps have been removed ready for you to tack on an SFS file of your favourite office suite (recommend Open Office).

Replaced JWM/ROX with XFCE 4.6.2 / Thunar
Replaced SeaMonkey browser suite with Firefox 3.6.6 / Sylpheed
Removed Abiword, Gnumeric, Homebank, Ayytm, Geany
Added Transmission
Added Pwidgets 2.27
Removed Nvidia proprietary driver - if you have an Nv card you would probably want to add the full Nvidia driver anyway!

Note that this is not an upgrade for previous NOP - it will need a fresh savefile. .
Read more... Comments (11) Added by raffy July 20, 2010 (6:50AM)
MyWolfe 019
This release of MyWolfe has a few new items in it and I have moved back up to the Xorg-7.5 now that I have things working right. It also has Xserver-1.7.1 it is close to one of Barry Kauler's Quirky build.
Thanks to scOtman for the program jwm-wallpaper, but I had to edit some because of the wbar. Wbar is at the top of the screen and I like it. Some who tried MyWolfe-018 got to see my first attempt at wbar I have come to understand it more now.
Again thanks to jemimah for here pwireless2 I have put pwireless2-1.0 in and it is doing a great job. She also introduce me to gogglesmm and I still have it in most of my builds.
Because of scOtman I was able to build a few small scripts to allow a user to change the system sounds though the control panel found on the wbar.
There is one to change the startup sound, one for shutdown sound, and last but not least, one for reboot sound.
Rox is back to being the default file manager, to put is simply it just works it may not have all the features I may want but it works. But I did disable the pinboard so as to allow Jwm to control the background image.
You can see screen shot of MyWolfe-019 here. I am using the same images as MyWolfe-018 for nothing has changed in the gui part.
It still has Gimp-2.6.8 I know there out the 2.6.10 but I have not had the time to work with it and Barry does a better job of it than me.
It has Picasa to help you organize and do simple editing of your pictures and if you want you can create and upload to a online data base and never lose them.
As with all my last builds it has Google-chrome 5.0.375.99 stable I did not put in the development release for I was not sure if it was ready for prime time.
I also want to thank Barry Kauler for his fine work on the woof build system I have come to know it inside and out. What a learning experience.
Last note is if a pet will run in Quirky it should then run in MyWolfe for I have not change any of the libs.
You can download it here MyWolfe-019
Enjoy
Comments (6) Added by Grumpyw July 13, 2010 (8:13PM)