Lucid Puppy 5.2.5 is Released
April 2, 2011 - Lucid Puppy 5.2.5 is released!
Download version 5.2.5 from ibiblio.org: Get
lupu-525.iso
or explore the
folder
.
Download version 5.2.5 from nluug.nl: Get
lupu-525.iso
or explore the
folder
.
MD5 Checksum: b6658ab75cd5d48f358f0ee31b06b934
ISO Size: 128MB
Lucid Puppy 5.2.5 desktop with first-run and browser wizards.
New in Lucid Puppy 5.2.5 (released April 2, 2011):
Bash 4.1.0, Syslinux 4.03, e2fsprogs 1.41.14, JWM 500, Gnumeric 1.10.13;
updated PBurn and Gnome-MPlayer 1.02;
built from Woof of February 26, 2011.
Lucid Puppy 5.2 (released January 5, 2011):
is still compatible with Ubuntu packages;
has QuickSet for point-and-click desktop configuration;
has QuickPet for updates, diagnostics, and package installs;
has alternative window managers (XFCE, Fluxbox) through the package manager;
includes language packs for 11 different languages;
a true Puppy Linux built using Woof, the magical build script of Chief Developer Barry Kauler.
Announcement and Release Notes
Forum discussion
Tips and Tricks
Comments (7) Added by raffy April 2, 2011 (7:10AM)
MyWolfe-028
I am pleased to announce that I have got the Xfce-4.8 desktop in MyWolfe and it is stable and is now available for download MyWolfe-028.iso.
Here is a screen shot for you.
Just to let all know it has the full Compostitor turned on but you can adjust under windows manger tweaks
It is running the stable Linux kernel 2.6.34.1 it has xserver 1.7.5 and Xorg 7.3a. There has been a number of files updated and you can see in the updates in my blog.
You can see more picture MyWolfe-Pictures
Comments (0) Added by Grumpyw February 10, 2011 (10:41AM)
New puplet Puppy Cielo Wary 5 with OpenOffice, Skype, VLC and Opera
based on: Puppy Linux Wary 5.0 - 384mb
MD5 Checksum: bd983c487b75317dca6f4c2a1c2347b6
Software
:
OpenOffice
3.1 (dictionary: EN, IT, ES, PO, DE, FR) - office suite
Skype
2.1 - internet telephony
Opera
11.00 - browser web
Vlc
1.1.5 - media player with audio and video codecs
TrueCrypt
7.0 (volume mounted in "mnt", with Desktop link) - create a virtual encrypted disk
Download part 1
Download part 2
Download part 3
Download part 4
Older versions at
Puppy Cielo's home
.
Comments (3) Added by rollobix January 30, 2011 (3:38AM)
Puplite for Good Old Times
January 1, 2011 -
Sc0ttman's Puplite
brings back good old Puppy 4.20 with lots of tweaks found in the new Puppies of 2010.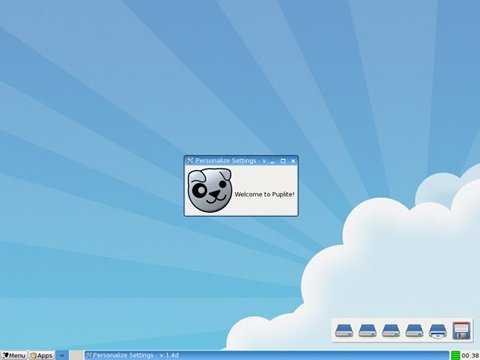 From the
forum announcement
, Puplite has:
first-boot configuration options;
sfs loading on the fly (point it to downloaded sfs files);
goodies from new Puppies of 2010;
grub4dos for booting; and
Puppy Arcade 10 as base ISO.
Download the ISO from
eMinima Mirror
.
Extra drivers are available in the
Murga Forum
, thanks to Tempestuous.
NOTE: Use with Puplite only sfs files built with Squash file version 3. (Sfs4 files are used starting with Puppy Linux 4.3.)
Comments (0) Added by raffy January 1, 2011 (12:10AM)
Macpup 511
November 16, 2010 - Macpup 511 is released, see the
Forum announcement
.
UPDATE June 11, 2011 - NEW
Macpup 525 is available
.
MP511 includes the Enlightenment E17 window manager. The EFL libraries version 1.0.0 Beta and E17 version 52995 were compiled and installed from source.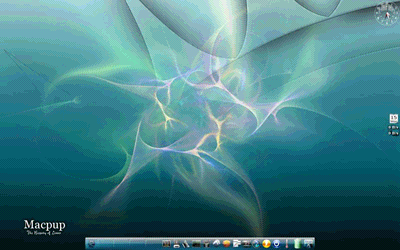 Download the
ISO (click here)
188 MB, Md5sum = 7cb0c86e9068517714bee8da0584e3e9
Visit the
Forum Discussion
or read the
users' reports
.
Comments (0) Added by raffy November 16, 2010 (10:32PM)
XOpup 1.0 is Released
October 17, 2010 - XOpup 1.0 is released. The XOpup is a result of almost a year of labor and advocacy from forum member mavrothal - see the
Forum announcement
.
Mavrothal was glad that his persistence plus the help of developers finally led to this release. He acknowledges the help of "01micko with crucial input from Mitch Bradley, Anna, Paul Fox, Edie Owens and ttuuxxx".
Mavrothal continues:
XOpup-1 is based on Puppylinux 5.1.1 with several customizations to fit the hardware. In addition to the custom kernels and under the hood optimizations, it includes custom desktop, quickpet, first-run screen, battery monitor, touchpad widget for XO-1, swap-file maker and power management. It also includes other goodies like the free-memory deamon, the lupu-511 "light" version of the Midori browser as default, and all the standard Puppylinux 5.1.1 applications and programs.
Download
XOpup 1.0
[tar.gz] 114 MB, md5sum = e01bced2c4d24677119291ec3a3ef501
The compressed tarball shall be expanded to a DOS/VFAT or Linux/Ext2-3 formatted USB or SD flash and used to boot the XO-1 or XO-1.5. Read more details in the
build announcement
.
For feedback, visit the
Forum
Comments (0) Added by raffy October 17, 2010 (7:10PM)
August 7, 2010 -
Puppeee, amazing distro for the eeePC,
is released.
In the
puppeee home page
, Jemimah wrote:
Puppeee is an ultralight, user-friendly Linux distribution for the EeePC

Puppeee should work on EeePCs with Intel GMA900, GMA950, and GMA3150 graphics cards. This is most 10 inch or smaller models. There is partial support for the 1101HA/1201HA with the GMA500 using Xvesa.
Jemimah has described Puppeee's development in the
Forum
:
Puppeee comes with a custom ultralight preemptive kernel optimized specifically for Atom or Celeron processors - the result is fast boot time, high performance, and low power usage.
Download Puppeee
and read the install instructions given in the same page. For feedback, visit the
puppeee forum
.
Read more... Comments (1) Added by raffy August 7, 2010 (6:00PM)
UbuntuStudio PuppyLinux Version
July 30, 2010 - Ubuntu Studio Puppy Edition - the creative power of Ubuntu Studio with the speed of Puppy Linux!
Download from here (user=puppy password=linux).
For feedback, visit the forum.
Comments (0) Added by raffy July 30, 2010 (8:20PM)
July 19, 2010 - Quirky 1.20 NOP is here! See the Forum. Download quirkyNOP from here (user=puppy password=linux), 100 MB, md5sum = 0a5c83fa3331cc32ed895d1e047f740d




Gray describes the new NOP:

This is a 100Mb remaster of Quirky 1.2 in the tradition of previous NOPs.

Nearly Office Pups are so called because office apps have been removed ready for you to tack on an SFS file of your favourite office suite (recommend Open Office).

Replaced JWM/ROX with XFCE 4.6.2 / Thunar
Replaced SeaMonkey browser suite with Firefox 3.6.6 / Sylpheed
Removed Abiword, Gnumeric, Homebank, Ayytm, Geany
Added Transmission
Added Pwidgets 2.27
Removed Nvidia proprietary driver - if you have an Nv card you would probably want to add the full Nvidia driver anyway!

Note that this is not an upgrade for previous NOP - it will need a fresh savefile. .
Read more... Comments (11) Added by raffy July 20, 2010 (6:50AM)
MyWolfe 019
This release of MyWolfe has a few new items in it and I have moved back up to the Xorg-7.5 now that I have things working right. It also has Xserver-1.7.1 it is close to one of Barry Kauler's Quirky build.
Thanks to scOtman for the program jwm-wallpaper, but I had to edit some because of the wbar. Wbar is at the top of the screen and I like it. Some who tried MyWolfe-018 got to see my first attempt at wbar I have come to understand it more now.
Again thanks to jemimah for here pwireless2 I have put pwireless2-1.0 in and it is doing a great job. She also introduce me to gogglesmm and I still have it in most of my builds.
Because of scOtman I was able to build a few small scripts to allow a user to change the system sounds though the control panel found on the wbar.
There is one to change the startup sound, one for shutdown sound, and last but not least, one for reboot sound.
Rox is back to being the default file manager, to put is simply it just works it may not have all the features I may want but it works. But I did disable the pinboard so as to allow Jwm to control the background image.
You can see screen shot of MyWolfe-019 here. I am using the same images as MyWolfe-018 for nothing has changed in the gui part.
It still has Gimp-2.6.8 I know there out the 2.6.10 but I have not had the time to work with it and Barry does a better job of it than me.
It has Picasa to help you organize and do simple editing of your pictures and if you want you can create and upload to a online data base and never lose them.
As with all my last builds it has Google-chrome 5.0.375.99 stable I did not put in the development release for I was not sure if it was ready for prime time.
I also want to thank Barry Kauler for his fine work on the woof build system I have come to know it inside and out. What a learning experience.
Last note is if a pet will run in Quirky it should then run in MyWolfe for I have not change any of the libs.
You can download it here MyWolfe-019
Enjoy
Comments (6) Added by Grumpyw July 13, 2010 (8:13PM)